Australia Education Information Center (AEIC)

Australian Education Information Center (AEIC) is the brain child of NAAER which will be developed as independent public institution to promote Australian Education, culture, lifestyle and trade. Since it is a public institution it is open to public (particularly students) who can visit the center and access the information free of cost. The Center will be managed and monitored by NAAER for its smooth operation. The committee under NAAER will be responsible for its smooth operation.
AEIC don't have its own fund therefore will be supported by NAAER members and expected to get strong support from its education partners. Since AEIC a common platform for stakeholders including students, our partners can use the space to conduct seminars, workshops, trainings, interview or any interaction session at no charge. Since this will be open to public, we expect good flow of students in future. NAAER will be neutral to all and without being biased our partners will be equally promoted in all possible platforms including display at the premises.
Managed by NAAER: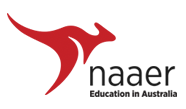 Supported by ANAA and NACCI: